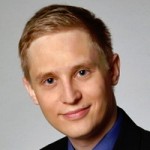 Lasse Ziegler is an agile coach and trainer with many years of experience working with different scrum teams in a variety of organizations both small and large.
In the last 12 years Lasse has been a developer, architect, project manager, CTO and entrepreneur. Having been in different roles gives a coach good overview of different aspects of an organization as well as an understanding of their different needs. With this experience a coach is well equipped in delivering a end-to-end coaching experience where both the business as well as the development are engaged.
As part of agile42 Lasse offers coaching and training in agile and lean. For agile42 coaching is not equal consulting. We do not tell you what to do, we make you find the right solution yourself and enable you to retrospect and optimize your processes. If you want to accelerate the implementation of a new method like Scrum, Kanban etc. we recommend beside our interactive trainings our effective on-the-job coaching.
Read more about us at: http://agile42.com
---
Agile Tour Vilnius 2011 > Master Classes